NSW Election: The Trusted Minority
4 April 2023
By Saturday 1 April, one week on from the NSW state election, it was confirmed that Labor would not win the 47 seats it needs to form a majority government. Following the count of thousands of postal ballots, Labor had won 45 seats, the Coalition 35 (24 Liberal and 11 National), the Greens had retained its three seats and nine electorates had voted for independent candidates. Counting continues in the northern Sydney seat of Ryde, which the Liberals are currently expected to retain. Meanwhile Premier Minns has also announced his first full Ministry, which will see a reduced Cabinet of 22 Ministers – 50 per cent of which will be women. In a historic first for NSW, women will hold the prominent positions Leader of the Government in the Legislative Council, and will serve as Ministers for Energy (Sharpe), Police (Catley), Regional NSW (Moriarty), Finance (Houssos) and Regional Transport (Aitchison.)
NEWS SOUTH WALES CABINET LIST OF MINISTERS
Premier

Hon Christopher Minns MP

Deputy Premier
Minister for Education and Early Learning
Minister for Western Sydney

Hon Prudence Carr MP

Minister for Climate Change
Minister for Energy; Minister for the Environment
Minister for Heritage
Leader of the Government in the Legislative Council

Hon Penelope Sharpe MLC

Special Minister of State
Minister for Roads
Minister for The Arts; Minister for Music and Night-time Economy
Minister for Jobs and Tourism
Deputy Leader of the Government in the Legislative Council

Hon John Graham MLC

Treasurer

Hon Daniel Mookhey MLC

Minister for Health; Minister for Regional Health
Minister for the Illawarra and South Coast

Hon Ryan John Park MLC

Minister for Transport

Hon Joanna Haylen MP

Minister for Planning and Public Spaces

Hon Paul Scully MP

Minister for Industrial Relations
Minister for Work Health and Safety

Sophie Cotsis MP

Minister for Police and Counter-terrorism

Hon Yasmin Catley MP

Minister for Customer Service and Digital Government
Minister for Emergency Services
Minister for Youth Justice

Hon Jihad Dib MP

Minister for Families and Communities' Disability Inclusion

Hon Kate Washington MP

Attorney General

Hon Michael Daley MP

Minister for Agriculture, Regional NSW and Western NSW

Hon Tara Moriarty MLC

Minister for Local Government
Vice President of the Executive Council
Leader of the Government in the Legislative Assembly

Hon Ron Hoening MP

Minister for Finance
Minister for Natural Resources

Hon Courtney Houssos MLC

Minister for Small Business
Minister for Lands and Property
Minister for Multiculturalism
Minister for Sport

Hon Stephen Kamper MP

Minister for Water
Minister for Housing; Minister for Homelessness
Minister for Mental Health; Minister for Youth
Minister for the North Coast

Hon Rose Jackson MLC

Minister for Better Regulation and Fair Trading
Minister for Industry and Trade
Minister for Innovation, Science and Technology
Minister for Corrections

Hon Chanthivong MP

 

Minister for Skills, TAFE and Tertiary Education
Minister for the Hunter

Hon Timothy Crakanthorp MP

Minister for Aboriginal Affairs and Treaty
Minister for Gaming and Racing
Minister for Veterans
Minister for Medical Research
Minister for the Central Coast

Hon David Harris MP

Minister for Women
Minister for Seniors
Minister for the Prevention of Domestic Violence and Sexual Assault

Hon Jodie Harrison MP

Minister for Regional Transport and Roads

Hon Jennifer Aitchison MP
LEGISLATIVE COUNCIL RESULTS
Labor have not achieved a clean sweep of the state's upper house either. With the usual half-election of the 42-member Legislative Council, Labor have secured 8 positions; the Coalition 6; the Greens 2; and One Nation one. Four positions are yet to be finalised, however are likely to be filled by a seventh Liberal and one each for Legalise Cannabis, the Liberal Democrats and the Shooters, Fishers and Farmers. The remaining LC members (not up for re-election) comprise seven Labor MLCs, seven Coalition MLCs, two Greens MLCs, and one each to Shooters, Fishers and Farmers and the Animal Justice Party.
INFLUENTIAL CROSSBENCH
With Premier Minns and his yet-to-be-finalised team requiring crossbench support to pass legislation, it is worth considering the policy priorities for the nine influential independent MPs – three of whom (Greenwich, Piper and McGirr) have already committed to supporting the Minns Government in a joint statement:
Alex Greenwich MP, Sydney (IND) – has already expressed his desire to enact gambling reforms.

Jenny Leong MP, Newtown; Tamara Smith MP, Ballina; Kobi Shetty, Balmain (GRN) - will be seeking a series of promises from Labor on cashless gaming, nurse-to-patient ratios and rental reforms to provide the Minns Government with political support.

Greg Piper MP, Lake Macquarie (IND) - may take the MP up on his offer to be the new Speaker, given he previously served as assistant and temporary speaker.

Judy Hannan, Wollondilly (TEAL-IND) – the only Climate 200 candidate to win a seat during the NSW election, she is likely to support initiatives minimising over-development.

Michael Regan, Wakehurst (IND) – a fixture in local government in Sydney's northern beaches, is expected to look for 'commonsense solutions' to issues including housing affordability, better public transport and easing cost of living pressures.

Joe McGirr MP, Wagga Wagga (IND) – the doctor has advocated for closing the gap between regional and metropolitan health facilities. 

Gareth Ward MP, Kiama (IND) – the former Liberal MP for Kiama was suspended from the Liberal Party last year when he was charged with historic sexual assault offences.

Roy Butler MP, Barwon; Helen Dalton MP, Murray; Phillip Donato MP, Orange (IND) – all breakaways from Shooters, Fishers and Farmers last year following concerns over comments made by their party leader in parliament. Their focus is likely to be on improving circumstances for regional NSW.
Triumphant ALP sweeps to power across Australia's mainland
27 March 2023
CURRENT STATE OF PLAY
| | |
| --- | --- |
| ALP | 47 |
| LNP | 27 |
| GRN | 3 |
| IND | 7 |
| SEATS IN DOUBT | 14 |
Source: The Sydney Morning Herald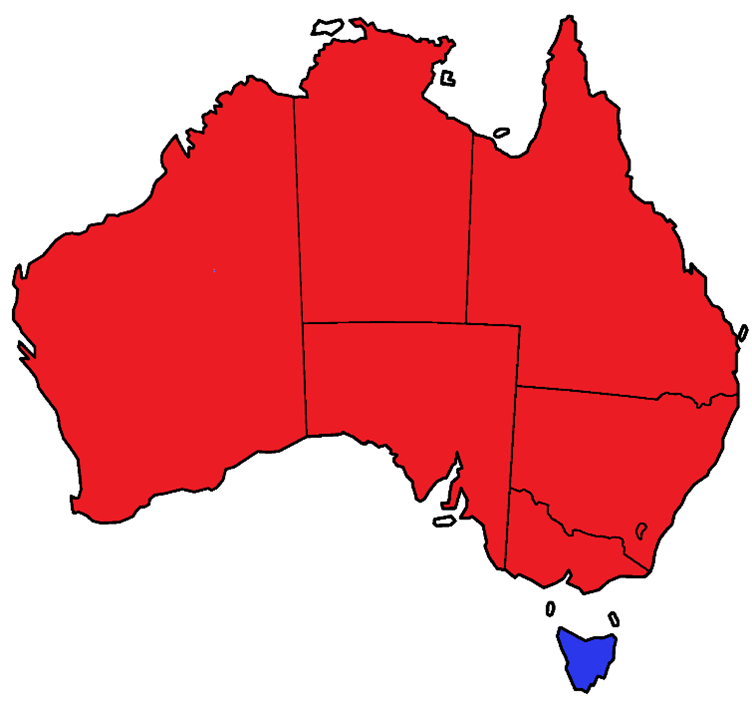 OVERVIEW
After a long 12 years in the political wilderness up to 25 March election, Australian Labor Party leader, Chris Minns will be the 47th Premier of NSW.
The ALP has swept the long-term Coalition Government from power for only the third time since WWII.
It is a stunning victory for Chris Minns, eclipsing both Bob Carr's victory in 1995 by one seat and Neville Wran's 1976 one seat win, ending 11 years of Coalition government.
With around 50 per cent of the vote counted by 10.30pm on Saturday night, the Australian Labor Party (ALP) are set to pass the 47-seat threshold to form a majority government.
As of the close of counting on Saturday night, Labor has reclaimed many of the seats lost in Western Sydney in 2010, 2011 and 2015 (Camden, East Hills, Parramatta, Riverstone, Holsworthy and Penrith).
Current results for the Upper House are indicative only, suggesting a favourable Legislative Council will be in place. As of first preference counting, Labor secured just over 37 per cent of the vote; the Coalition achieving just over 29 per cent, the Greens around 10 per cent and One Nation around 5.6 per cent. Upper House results are likely to be made clear during the coming week.
A NEW DAWN FOR THE ALP
Minns' election winning campaign focused heavily on a theme of rejuvenation in the state, with the slogan 'a fresh new start for NSW' underpinning many of the party's commitments to reform the state's education system, revamp its healthcare system and improve public transportation and road and rail conditions across the state.
Premier-elect Minns has flagged there will be few major changes when he announces his Cabinet, with his Deputy Leader Prue Car expected to retain the key Education portfolio. However, the remainder of the incoming ministry is yet to be finalised and will be one of the first items on the new Premier's agenda once counting is complete.
WHAT YOU NEED TO KNOW
Premier-elect Minns has already committed to alleviating cost of living pressures on working conditions for the state's essential workers. This will include converting 10,000 temporary teachers to permanent contracts, updating healthcare regulations to ensure one nurse is assigned to every three patients, and upskilling regional paramedics.
For business, Labor has also pledged initiatives to bring back manufacturing to NSW, including an overhaul of local procurement requirements. One of the first major transactions to be impacted will be the tenders to replace the ageing Tangara train fleet. This approach will be front and centre for future tender processes in NSW and mirrors other ALP state governments' efforts to deliver more local jobs. For businesses, this will mean a new layer of compliance in tendering and winning government projects.
A NEW BASE FOR LABOR
Findings from the Edelman's 2023 Trust Barometer revealed a collapse in economic optimism globally. Amid the rising cost-of-living, interest rates and energy prices, only 30 per cent of Australians believe they will be better off financially in 5 years. With 83 per cent of employed Australians concerned about job losses, and 69 per cent about inflation, other issues including the possibility of nuclear war, ongoing climate change crises and energy and food shortages have ranked among the most top-of-mind concerns for Australians.
Labor's policies have outlined the party's vision to address these crises in a way that consistently resonates with younger Australians, particularly millennials aged between their mid-20s and mid-30s. With commitments seeking to improve access to Sydney's communities, and otherwise look to improve living conditions for all residents, Labor have gained the trust of voters across the nation – clearly reflected in its electoral success across each mainland state and territory, as well as nationally.
Labor's new 'working class' effectively consists of tertiary educated women. Many of them are millennials who are looking for governments to recognise their contribution to the workforce, and for ways to help them feel as secure in their working and private lives as previous generations – from job to physical security, and through policies which support marginalised communities.
Labor's revamped policy platform has helped modernise the party's appeal and reframe its ideals for the incoming voting generations, while many of the Coalition's commitments are seen to be appealing to a wealthier, older, shrinking voter base.
TEALS AND ONE NATION FAIL TO GAIN TRACTION
In the lead-up to the election campaign, figures in the media extensively canvassed the possibility of a Teal 'wave' in NSW, to reflect the one seen federally. Conservative pundits likewise believed the Liberals and Nationals were at significant risk of losing key lower house seats to One Nation.
The election result indicates these predictions were largely unfounded, with the only Climate-200 supported candidate likely to achieve success being Judy Hannan (in Wollondilly), and One Nation failing to pick up a seat in the lower house. One other independent candidate, Michael Regan, a local council stalwart in Wakehurst, picked up the seat previously held by retiring Health Minister Brad Hazzard.
'BUSH' SEATS NO LONGER A NATIONAL STRONGHOLD
Although the Nationals have not lost a single seat during this election, their regional footprint shrank while in government, and they failed to make inroads in seats lost at the last state election to Shooters, Fishers and Farmers in Barwon, Orange and Murray. The seats will now be held by independents formerly belonging to SFF, who resigned from the party three months before the election protesting their leader's misogynistic comments in Parliament.
Steve Whan, a former Labor Minister, is expected to defeat incumbent Natalie Overall in the seat of Monaro, formerly held by National party leader John Barilaro.
In Wagga Wagga, independent Joe McGirr has also increased his margin by 6.3 per cent after winning the seat from the Liberals at a by-election in 2018.
PERROTTET STEPS DOWN - WHO WILL FILL THE VOID?
During his concession speech to the party faithful in Sydney on Saturday night, outgoing Premier Dom Perrottet announced his resignation from the Liberal leadership. It is likely he will resign his seat when the party is prepared to contest a by-election in his seat of Epping.
As of Sunday, former Treasurer Matt Kean has announced his intention not to contest the leadership, while former Science and Innovation Minister Alister Henskens will likely throw his hat in the ring once the party room's make-up is finalised.
KEY ALP POLICIES
The core tenets of the State Labor team reflected the same messages that resonated so strongly nationally during the 2022 Federal election – from a 'fair go' for all Australians to a 'fresh start' in NSW, commitments to improve living standards have been cornerstone of the party's manifestos, and strong political performers will be championing these policies within the new Government.
From reforming the state's education system across preschools, schools and TAFE, to boosting wages for workers in the state's essential services, and improving resources for the state's emergency services (following the devastating natural disasters from bushfires to floods particularly impacting regional NSW communities) Labor have committed themselves to ensuring 'no one is left behind.'
Housing
Renters and first home buyers will be among the key beneficiaries of Labor's election commitments, pledging its commitment to tackle the issues of secret rent bidding, simplifying process for pet ownership in rental properties and abolishing Stamp Duty for first home buyers.
Improved road infrastructure
Recognising challenges in the state's transportation system, particularly to commuters, Labor committed $1.1 billion to improve thoroughfares across Western Sydney and regional NSW, relieving bottlenecks in Riverstone and Homebush, new entry and exit ramps on the M1 at Dapto and along the Hume Highway from Liverpool. Labor has also committed to introducing a weekly toll cap of $60 for motorists.
Renewable Energy
$1 billion will be allocated to a new state-run energy body to accelerate investment in renewable energy assets. The new NSW Energy Security Corporation will partner with industry on projects including:
Medium to long duration renewable energy storage solutions like pumped hydro, as well as other commercially viable technologies able to provide grid stability; and

Community batteries to maximise the benefits for households of rooftop solar.
Similarly, power bills will be shaved for NSW residents – $315 for eligible small businesses, and around $250 off household bills for families receiving income support.
FINAL THOUGHTS
The Edelman Trust Barometer showed people's trust in government has fallen dramatically and some 61 per cent said the lack of civility and mutual respect is "the worst I've ever seen". As such, one of the most interesting features of this election campaign was its civility, with neither party taking "the low road," as Chris Minns noted during his victory speech. The outgoing Premier's remarks were similarly respectful and generous, urging the people of NSW to get behind a "fine leader".
For those wanting to engage with the new government, it's worth noting that almost every member of the new NSW Cabinet will have spent their entire political careers in Opposition.
It will be important to remember in the short term that much of the focus will be staffing up ministerial offices and ensuring that the government hits the ground running. Now is the time to consider recalibrating your strategy and being nimble in working with government departments and political offices.
This election wrap was prepared by Edelman Global Advisory (EGA) Australia and Edelman Australia. For information on EGA's advisory and government communications services, please contact Peter Fraser at Peter.Fraser@Edelman.com.
Image Source: Photo by Sam Wermut on Unsplash