BRANDS TAKE A STAND
Today more than ever, consumers are putting their faith in brands to stand for something. To do the right thing. To help solve societal and political problems. Whether people are shopping for soap or shoes, they're weighing a brand's principles as much as its products. Opting out of taking a stand is no longer an option for brands.
The 2018 Edelman Earned Brand study reveals that nearly two-thirds (64 percent) of consumers around the world now buy on belief, a remarkable increase of 13 points since 2017. These Belief-Driven Buyers will choose, switch, avoid or boycott a brand based on where it stands on the political or social issues they care about.
The belief-driven mindset has gone mainstream. Belief-Driven Buyers are now the majority in every market surveyed, across all age groups and all income levels. Almost as many consumers aged 35-to-54 buy on belief as 18-to-34-year-olds, and the most impressive gains come from the older cohort, with an 18-point increase among people 55 years old and up. A brand's stand drives both purchase intent and advocacy. Showcasing a brand's principles or its products inspires purchase equally. Buyers are just as likely to express purchase intent after viewing a communication focused on a brand's stand as they are after viewing a product-focused communication. And a communication focused on a brand's stand has an even greater effect on a consumer's intent to advocate for the brand than one focused on product features.
A brand's stand matters at every consumer interaction. Reminding consumers of the brand's stand when they are about to buy is crucial: 60 percent say brands should make it easier to see its values and its position on important issues at the point of sale.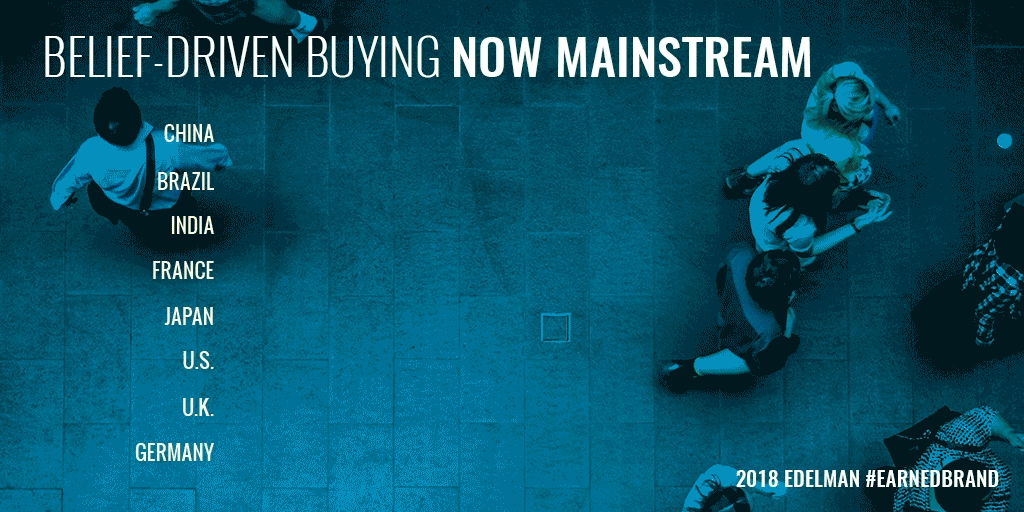 A brand can choose its stand across a spectrum of action — from defining a clear purpose, to connecting to culture, to engaging in full-throttle activism. People's belief in brands as a force for social good provides marketers with an opportunity — and an obligation — to help their customers live their best lives.